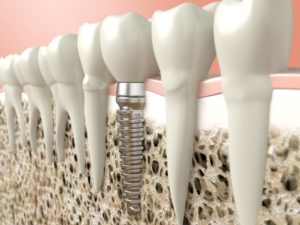 What's the first thought that comes to mind when you think about dental implants? Most patients find it difficult to imagine dental implants after first hearing about them because they don't understand the "implant" aspect of treatment. They ask many questions about the implant itself and what the treatment entails, making them apprehensive.
Luckily, your dentist is prepared to walk patients through the process of dental implants in Farmington. Once you know what to expect, you'll be far more confident to replace your teeth and restore your mouth's many functions again.
The Consultation and Treatment Plan
During the consultation, you'll have the opportunity to ask the dentist any questions you may have. Your dentist will also ask questions to confirm that you are eligible for dental implants in the first place. To be eligible, you need to make sure you have enough supporting jawbone. If not, you may need a bone graft, which is a procedure that utilizes donated bone or bone from other parts of the body for implant placement. Patients will also need healthy gum tissue to support an implant.
If your dentist determines you are eligible for dental implants, she'll work with you and her trusted oral surgeon to form a treatment plan. This will go into great detail on:
How many implants you intend on getting
Planning the steps of the surgery itself
The possibility of using other dental devices in tandem with your implants
The Placement
During your initial appointment with the oral surgeon, you'll have the implant placed. This is done in a single appointment. Don't worry about feeling any discomfort as you'll be given local anesthesia to mitigate it. Once gum tissue is opened and the implant is placed, your dentist will close the area and place a healing cap on top. This is a temporary abutment (double-sided screw for implant and crown) that can house a temporary dental crown.
The Healing Period
Depending on where the implant was placed, the area can take anywhere from three to six months to heal. Once healed, you'll come back for another appointment to have the healing cap replaced with your permanent abutment. This is also where your permanent crown will be placed. This abutment also requires it's own healing period of a few weeks.
Crown Placement
Once the implant has sufficiently integrated and the gum tissue surrounding the implant is healed, you can come in for your final appointment to have the permanent crown placed on top. This is typically an all-porcelain crown because of its durability and natural appearance. If you opted for an implant-retained denture, you'll go through the same process mentioned but with four separate implants strategically placed throughout the mouth.
Ready to transform your life with dental implants in Farmington? Schedule a consultation to get started!
About the Author
Dr. Leslie M. Metzger will be responsible for designing the crown placed on top of your dental implant. She's attended cosmetic dentistry programs at the Las Vegas Institute for Advanced Dental Studies, one of the premiere institutions for education after dental school. To learn more about her practice, contact her through her website.