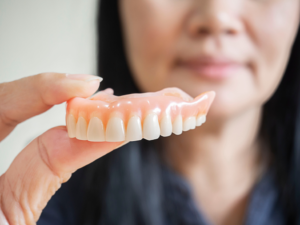 Dentures are among the most tried-and-true of all tooth replacement options, and countless generations of patients have turned toward these nifty prosthetics to restore their oral functionality and have a natural-looking smile once more. But did you know that sometimes dentures don't fit quite as well as they should, warranting the need for special adhesives to be used to assist with keeping them in place? Keep reading to learn a little more about these adhesives and some advice for picking the best one for your dentures.
What Is Denture Adhesive?
Denture adhesive is exactly what it sounds like; it's a special type of adhesive used to help support dentures and keep them in the proper position inside of a patient's mouth. Under ideal circumstances, dentures fit correctly, and suction combined with muscle control is enough to hold them in place—but sometimes a little extra help is needed. These adhesives consist of powders, creams, or strips that sit between your dentures and your gums to stabilize them.
Types of Denture Adhesives
Here's a closer look at some of the most popular types of denture adhesives:
Adhesive creams/pastes – These offer a strong, all-day hold and can provide comfort from the pressure and subbing that dentures can cause.
Adhesive powders – These are just as strong as creams, but relatively easier to apply since you can simply sprinkle on the right amount of powder.
Adhesive strips/sheets/pads – These off strong, all-day holds but are very easy to apply and not messy. Usually more expensive than creams and powders.
Picking the Right Denture Adhesive
Your dentist will be able to assist you with picking the right denture adhesive, but it's also worthwhile to try out different ones to see if you have any personal preferences. Many people who lead on-the-go lifestyles tend to prefer adhesive strips since there's often a little less cleanup and some added convenience. However, for those who prefer powders or creams, they won't have to worry about any discomfort whatsoever. In any case, all are effective and can ensure that your dentures remain precisely in place. Be sure when applying denture adhesive that you follow the listed instructions, or ask your dentist for additional information if you have any questions or concerns.
About the Practice
The talented team at Money Aesthetic Dentistry is excited to offer patients and families in the Farmington, MI community an exceptional level of dental care. Under the leadership of Dr. Leslie Metzger, they're excited to offer a wide range of services including preventive options like dentures. If you have any questions about the blog or you'd like to schedule a visit, feel free to contact the practice through their website or by telephone today: (248) 476-3410.