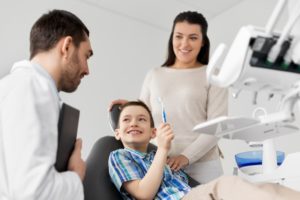 Having a different dentist for each member of your family can initially seem like a good idea. However, after a few months of driving all over town for professional cleanings, cavity treatments, and braces appointments, you are running on empty. Fortunately, there is a solution: use a family dentist in Farmington! Read on for five benefits of using one dentist for every member of your family.
Choosing a Family Dentist Saves You Time
Let's face it: your day is jam-packed. Between carpools, work meetings, extra-curricular activities, and fitting in self-care somewhere in between, your schedule can't fit much more. Fortunately, choosing a family dentist can alleviate some of the stress from your daily life by preventing multiple visits all across town. Instead, you can get all of the dental care you need at one convenient location.
Big Picture Perspective Focused on Prevention
When each member of your family is seeing a different dentist, it can be difficult to track down previous dental records and put all the pieces together. To prevent important information from falling through the cracks, use a family dentist! When each member of your household is receiving treatment at the same office, your dentist and their team can offer a big-picture perspective on your family's oral care. They can address reoccurring issues, set a prevention plan in place, and ensure that your entire family will have healthy, beautiful smiles for years to come.
Familiar Environment for Your Child
Did you know that nearly 20% of children experience fear around going to the dentist? Since they are being placed in a treatment chair with a stranger with sharp tools, it's not hard to see how that phobia develops. However, the process is much less anxiety-inducing if your child sees a dentist they grew up with. When your dentist is closer to being a member of the family than a scary new person, the experience is likely to be more enjoyable for both you and your child.
Family Dentists Are Versatile
Whether you need a cleaning, your spouse needs a root canal, or you both are considering a cosmetic upgrade, a family dentist can do it all. In fact, their extensive experience ranges from pediatric to geriatric dentistry, so they know how to care for teeth of all ages. They also are familiar with different dental issues and solutions that your family is vulnerable to at each stage of life. This allows them to provide you with knowledge and prevention tactics that can preserve the integrity of your teeth!
Convenient Appointment Times For Your Schedule
As a family dentist, they understand school schedules, career demands, and extra-curricular activities. Therefore, they set up their appointment setting system around you! That means evening and weekend visits are welcome so oral care can be prioritized no matter how hectic your schedule is.
While specialists can be beneficial, opting for one dentist for your whole family is the best option for the care and convenience you require. By getting all your dental care needs at one convenient location, you can relieve some stress from your day without compromising your oral care!
About the Author
After obtaining her bachelor's degree from Michigan State University, Dr. Leslie Metzger earned her dental degree from the Ohio State University College of Dentistry. Today, she is a member of multiple prestigious organizations, like the American Dental Association, and is the founder and chairperson of the OCDS's Children's Dental Health Month Program. Dr. Metzger is also a recipient of the highly sought after Michigan Dental Association Public Relations Award. If you would like to see how she is using her extensive experience to help families achieve beautiful smiles, visit her website or give her a call at 248-476-3410.