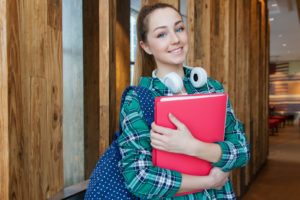 Teeth are designed to last for a lifetime, but that's not a reality for many people. Despite the latest advancements in dentistry, tooth loss is still common. Typically, it's an issue that's believed to only affect adults; however, teens can also lose a permanent tooth. Whether from decay, disease, or trauma, you want to restore the healthy, beautiful smile they deserve using a dental implant. Although you're never too old to benefit from them, can teenagers get dental implants? Here's what you need to know to make the best decision for their smile.
Are Teens Candidates for Dental Implants?
Unfortunately, most teens aren't good candidates for dental implants. Since their bodies are still growing and developing, placing a titanium post into the jawbone before it has fully formed can cause it to fall out. Unlike other treatments, a dental implant replicates the entire tooth, including the root; therefore, the procedure is a little more complex. Dentists prefer to wait until after the bones have fully developed and hardened before placing dental implants.
What is the Best Age for Dental Implants?
A person's candidacy for dental implants isn't determined by their age. Instead, the dentist considers several factors, like oral and general health. Many oral surgeons recommend a patient is at least 21 years old; however, some 17- or 18-year-olds may be candidates. Gender can also play a role because girls often stop growing sooner than boys. As a result, some girls may be a candidate as young as 14, while boys may need to be closer to 18.
Age isn't the only thing the dentist considers. The location of the missing tooth can also determine if a dental implant is right for your teen. The upper and lower jaws grow at different speeds. Typically, implants can be placed in the top jaw before the lower.
How Can My Teen Replace Their Tooth?
If dental implants aren't right for your teen, you don't need to wait until they've finished growing to fill the space in their smile. A temporary replacement can be created using a removable partial until they can have their placement surgery.
A partial consists of a custom-made prosthetic tooth that's held in a gum-colored base. It has a metal framework, which allows it to clip or clasp onto their other teeth to stay in place. You won't need to worry about permanently altering their teeth while waiting for their dental implants.
Rebuild a Confident Smile
Your teen doesn't need to feel insecure about their missing tooth. Your dentist has the solutions they need to restore their self-esteem through a complete smile.
About Dr. Leslie Metzger
Dr. Metzger earned her dental degree at the Ohio State University College of Dentistry and has completed additional training at the Las Vegas Institute for Advanced Dental Studies. As a result, she can treat the most complex dental issues, like tooth loss. If your teen lost an adult tooth, contact our office today to schedule their consultation to rehabilitate their smile.