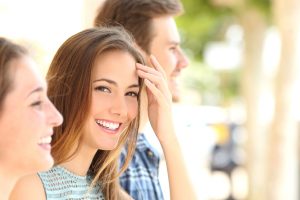 Would you like your teeth and gums to look as healthy as they really are? Why not consult the expertise of Dr. Leslie M. Metzger, cosmetic dentist in Farmington? She provides the skills and artistry to change chipped, yellow teeth into a dazzling smile zone.
What Would You Change About Your Appearance?
Research by the American Academy of Cosmetic Dentistry says most people would like to change their tooth color. Additionally, the majority of people surveyed say they notice a person's smile before they notice any other physical attributes.
If you wish to improve your self-image and appearance, try a cosmetic dentistry consultation at Monet Aesthetic Dentistry. Dr. Leslie M. Metzger takes special interest in aesthetic goals and has the advanced training from the prestigious Las Vegas Institute to deliver them.
Available Cosmetic Services
Dr. Metzger and her team offer many aesthetic dental treatments–either singly, or in combination–for smile makeovers that are simply amazing. Here are the details on some of the services available at Monet Aesthetic Dentistry.
Same-day Porcelain Crowns The dental crown combines the best of restorative and cosmetic dentistry. Covering and strengthening failing or fractured tooth enamel, a crown also beautifies a smile. Made from dental-grade porcelain, and custom-milled using sophisticated E4D technology, a ceramic crown from Monet Aesthetic Dentistry takes just one visit. There are no gooey impressions, awkward temporaries or long waits from an outside dental lab. Dr. Metzger designs and manufactures this beautiful, color-matched restoration chairside and permanently bonds it in place. The patient leaves within an hour or so with a shiny, durable tooth.
Professional teeth whitening in Farmington This cost-effective service brightens tooth color by up to 8 full shades. Applied via custom-made acrylic trays, the powerful bleaching gel penetrates stains from coffee, smoking, blueberries and more. After about 10 days of home use, teeth look bright and feel just great. This service is often used in conjunction with quick composite resin bonding which repairs chips, cracks, small gaps and irregular tooth shapes and surfaces.
Porcelain veneers These super-thin and translucent shells of fine dental porcelain cover dental defects such as cracks, heavy discolorations, spacing problems and odd tooth shape and size. They require a modest reduction of tooth enamel on the front side of affected teeth to ensure proper bond and fit. Made according to digital x-rays and 3-D imaging, veneers transform smiles quickly–in just 2 appointments–and last for many years with good oral hygiene at home and from Monet Aesthetic Dentistry.
Invisalign clear aligners appeal to older teens and adults with mild to moderate orthodontic issues. Fully removable, comfortable and easy to maintain, the 18 to 30 aligner pairs gradually move teeth into healthier and more attractive positions. There are no dietary restrictions, complex hygiene routines or lengthy adjustments at the dentist's office. Patients have new smiles in 9 to 18 months on average–a much shorter treatment time than metal wire and bracket braces.
You Can Look Different
To start the journey, get a smile analysis with Dr. Metzger. Contact Monet Aesthetic Dentistry today, and arrange your personal appointment.