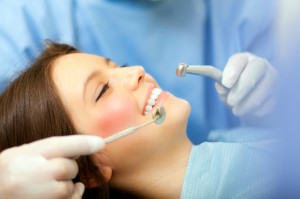 Cosmetic dentistry is one of the most popular areas of dentistry and it's easy to understand why. As opposed to other dentistry services like restorative and preventive, cosmetic dentistry focuses on the appearance of your smile rather than functionality. Everywhere you look there seem to be people with whiter and brighter smiles than ever before. Dental technology has advanced so much just over the last five years, and we want you to take advantage of these services.
Our Farmington, MI office offers specialized cosmetic dentistry services for all of our patients. Dr. Metzger is the cosmetic dentist Farmington, Novi and Farmington Hills residents can trust to get their smiles looking beautiful. One mustn't ever underestimate the power of a white smile – it can make a great first impression. A white smile can help you get that job you've always wanted or a date with that special someone you've been eyeing. Since your teeth are one of the first physical traits anyone notices, it's best to get them looking as beautiful as possible. Celebrities don't have to be the only ones with million-dollar smiles – you can enjoy the same when you visit our office. Dr. Metzger is the cosmetic dentist Farmington residents can trust.

Cosmetic Dentistry Can Change Smiles for the Better
Think about the way your smile looks right now. Go to the nearest mirror and smile big. There are lots of things about our smiles that we don't like, so it's natural to be picky. Imperfections can be treated when you receive our cosmetic dentistry treatment. We can give you results that will change your smile for the better. A dull, discolored smile doesn't do anything for anyone, but a white smile can turn heads.
Below is a list of the cosmetic services we offer each of our patients:
Porcelain veneers
Invisalign
Dental implants
Teeth whitening
Crowns
Fixed Bridges
Inlays and onlays
Tooth-colored fillings
In order to bring smiles out of the dark and into the light, we can use any of these services. Dental implants, especially, can provide more than just a beautiful appearance – it can bring excellent functionality back to your mouth. You see, dental implants are the preferred treatment for anyone with missing teeth. Missing teeth can keep you from enjoying the simple things like eating, speaking, yawning, laughing and more. You want your smile to look its best, and dental implants are a permanent solution for a naturally beautiful smile. If you're thinking about dental implants, Farmington, MI dentist, Dr. Metzger, wants to see you.
Schedule Your Cosmetic Appointment Today
We want you to enjoy a beautiful smile, but the only way to achieve one is by taking advantage of our cosmetic services. If you're ready to show off a million-dollar smile, we invite you to visit our office in Farmington, MI. Dr. Metzger is the dentist Farmington, MI residents can trust to get their teeth looking as beautiful as ever.