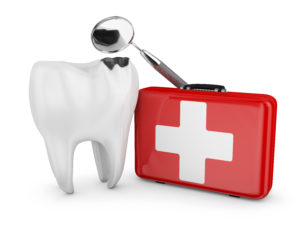 It can be difficult to know for sure when it's time to schedule an appointment with an emergency dentist. Not all issues feel like dental emergencies when they appear. If you've never experienced a dental emergency before, you may not even know what you need to do next. The good news is when you have an emergency dentist by your side to provide guidance, you or your family is never forced to second-guess. If you notice any of the following symptoms below, call an emergency dentist to get scheduled for an appointment!
Loose Teeth
The only time a tooth should feel loose is when it's a baby tooth and it is on it's way out of the mouth so that a permanent tooth can erupt. Under no other circumstances should a tooth feel loose or wiggle in place. If this occurs, it may be because you recently suffered from a dental injury. Even if a tooth looks fine, looseness indicates possible damage to the jaw bone or the nerve. Additionally, a tooth could become loose if an infection is present. This can develop due to gum disease or cavities.
Bleeding or Aching Gums
If you notice small amounts of bleeding after flossing, it can mean that you're experiencing the early stages of gingivitis, the mildest form of gum disease. If the bleeding goes away after a minute or so, you simply need to improve your at-home brushing and flossing routine. However, if the bleeding does not stop, becomes a recurring issue every time you brush, or results in aching gums, it's time to get it looked at by an emergency dentist.
Swollen Jaw
Swollen jaws are typically a sign of a salivary gland infection. These localized infections can also be characterized by fever, bad taste in the mouth, and trouble breathing or swallowing. Don't wait to get this issue handled by a dentist if this is the case.
Long-Term Canker Sores
Whether it's a canker sore or another oral lesion, if it doesn't go away on it's own, you need to get it examined by a dentist. If the canker sore sticks around for more than two weeks or it becomes infected, you need emergency attention. After all, canker sores typically go away without any treatment, either at home or from a dentist.
Numb Teeth
Tooth pain is likely to appear before a tooth becomes numb. If this occurs, it's probably because an infection has reached the root portion of the tooth. This infection, also known as an abscess, means that root canal treatment will be needed.
Metal Taste in the Mouth
Do you have metal dental fillings? Suddenly tasting metal in your mouth could mean that it's become loose, fallen out, or simply cracked. Open fillings put your mouth at risk for an oral infection, so don't wait to get it replaced!
About the Author
Dr. Leslie Metzger is a dedicated dentist committed to not only making patients feel comfortable during every visit, but expanding her dental knowledge in order to better help patients in need of treatments, including for dental emergencies. Whether you have a toothache or a dental infection that needs immediate care, she's more than prepared to help you every step of the way. To schedule an appointment, you can contact her through her website.