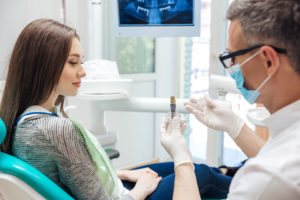 If you've lost a single tooth or a complete row of teeth, your dentist has likely asked you to consider treatment using dental implant supported replacement teeth. Dental implants are the only restoration option that allows the dentist to replace the lost roots of your missing teeth, and many patients can benefit from this innovative treatment method. Before you schedule your dental implant consultation, you should take the time to learn a little more about what makes you a good candidate for this restoration and what questions you should ask your dentist before getting started.

What Makes a Good Implant Candidate?
With innovations in the materials used to make dental implants and the surgical methods to place them, more patients than ever before can receive dental implant supported tooth replacement. However, the ideal candidates should meet the following criteria:
Relatively good oral health
Good overall health and/or the okay from medical physicians to receive minor surgery
No past negative experiences during surgical treatment
Adequate jawbone density and gum tissue volume to support an implant post
The time to dedicate to this advanced treatment plan
What Happens During My Consultation?
During your consultation, you have the opportunity to discuss all of the details associated with your dental implant supported tooth replacement plan. Your dentist will carefully evaluate your current state of oral health, capture digital x-rays and other diagnostic images, and ask for information about your overall health and past surgical experiences. This allows the dentist to determine whether or not your specific situation is best treated with implant tooth replacement. In addition to giving the dentist a chance to better understand your unique needs, the consultation is also your opportunity to learn more. Some of the many questions you may want to ask your dentist during a dental implant consultation include:
Am I a good candidate for implants?
Do you perform the entire implant placement and restoration process here?
What training in implant placement do you have?
How many dental implant restorations have you completed?
Can I see some samples of your past dental implant cases?
Do I need to stop taking any of my prescription medications prior to treatment?
What is the cost of dental implant tooth replacement?
How long will the process take?
What are my other treatment options?
Meet Dr. Metzger
Skilled implant dentist, Leslie M. Metzger, DDS, has years of advanced training and experience placing and restoring dental implants. She is dedicated to offering her patients only the highest quality dental care, and when it comes to replacing missing teeth, that means implant supported restorations. Whether you've lost a single tooth or a full row of teeth, call our Farmington dental office right away to schedule a consultation appointment. We look forward to seeing you in our office soon to help you decide whether or not implants are the right treatment to meet your needs.