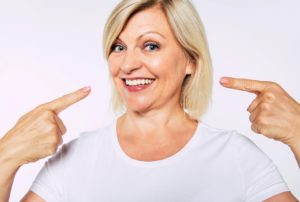 Are you self-conscious of your smile because you are missing teeth? Do you dread it when the camera comes out and avoid smiling in photos? You aren't alone. It is estimated that approximately 178 million Americans are missing at least one tooth. About 40 million of those people are missing all of their teeth. Fortunately, there is a solution. Dental implants in Farmington can give you the smile you've always dreamed of just in time for summer. Read on to learn more about them and how they can benefit your life.
What Are Dental Implants?
A dental implant is a fixture that is placed directly into the jawbone. It is then allowed to fuse with the bone over the span of a few months. The implant acts as a replacement for the root of the missing tooth which can then hold an artificial tooth or bridge. This is currently the best way to mimic the natural roots of the teeth.
What Are the Benefits of Dental Implants?
Improved Appearance: As well as giving you a full, beautiful smile, dental implants prevent the further deterioration of the face structure. When tooth roots are missing, there is nothing left in the jawbone to stimulate bone growth, so it begins to weaken. This limits the blood flow to the face and ultimately causes premature aging.
Natural-Looking: Dental implants have a natural appearance. No one will even know they're there unless you tell them.
Improved Speech: By adding structure to the mouth, implants make it easier for you to speak without mumbling or slurring your words.
Durability: Implants are usually made from titanium, which is a sturdy and durable material. In fact, dental implants are able to withstand more pressure than your natural teeth.
Long-Lasting: Implants are extremely durable so they can last upwards of 25 years. If they are properly cared for, they can last a lifetime. For someone who is looking for a more permanent solution for their smile, dental implants are the answer.
Convenience: Because implants are replacing the natural root of your teeth, they act as your natural teeth. The only upkeep they need is regular brushing, flossing, and trips to the dentist. There are also no restrictions when it comes to your diet.
Improved Self-Esteem: With an improved appearance comes an improved self-esteem. With no more insecurities surrounding your smile, you will be able to show it off with confidence!
If you're questioning what you can do about your missing teeth, dental implants may be the answer. They provide a permanent solution to missing teeth and have improved the lives of over 3 million Americans. Ask your dentist about dental implants so you can show off your smile with confidence this summer!
About the Author
Dr. Leslie Metzger practices restorative and cosmetic dentistry at Monet Aesthetic Dentistry in Farmington, MI. She has continued to further her education, including attending cosmetic dentistry programs at the prestigious Las Vegas Institute for Advanced Dental Studies. She is passionate about providing her patients with a smile that makes them feel confident. One of the ways she does this is by offering dental implants as one of her many services. For more information or to schedule a consultation, visit her website or call (248) 476-3410.