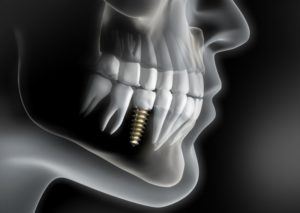 How long has it been since you've bitten into a nice juicy steak? If you're missing one or more teeth, it has probably been far too long. Gaps in your smile, even if they're not visible, can make it hard to chow down on your favorite chewy or crunchy foods. Fortunately, your dentist has a solution – dental implants! Let's talk more about dental implants and what's they're made of.
What Exactly Are Dental Implants?
Most solutions to tooth loss, like bridges or dentures, only replace the visible portion of the tooth, known as the crown. Dental implants, however, also replace the root of the tooth, or the section underneath the gumline. The implant is surgically inserted into the jawbone, right where the root of your missing tooth was located.
Over a period of three to six months, the implant post will actually fuse with your jawbone until it's basically a part of your body. It will feel just like your old tooth did, especially when your dentist attaches the abutment and restoration.
An abutment is a metal connector piece that attaches to the top of the implant. Once your implant has become fully integrated with your jawbone, your dentist can place it, along with what's known as a restoration. This is the part that makes up the visible crown of the tooth. The restoration, whether it's a crown, bridge, or denture, can be made of materials like ceramic or porcelain to perfectly mimic your natural tooth and blend right into your smile.
What Are Dental Implants Made Of?
Most of the time, dental implants are made of titanium. This is done because titanium is perfectly biocompatible, meaning that unless the body has an extremely rare allergic reaction to the material, the body will never reject it. In fact, it will gladly accept the implant as if it were a natural part of the body. The abutment and crown can be made of several different materials, but the important thing is that they are indistinguishable from your original teeth.
How Long Do Dental Implants Last?
The great thing about dental implants is that they are designed to last a lifetime. Unlike other tooth replacement methods, implants do not require adjusting every few years. Once they have been installed, they require very little maintenance. Simply brush and floss as normal and visit your dentist twice a year for checkups and cleanings.
Dental implants are made of titanium because modern dental science has determined it's the best material possible. If you're missing one or more teeth, ask your dentist about dental implants.
About the Author
Dr. Leslie Metzger earned her dental degree from the Ohio State University College of Dentistry. She maintains professional memberships in the American Dental Association as well as the Michigan Dental Association. She believes that patients are more than just names on a chart, and that every patient is an opportunity to form a new relationship. To get started on the process of replacing your missing teeth with dental implants, click here or call (248) 476-3410.