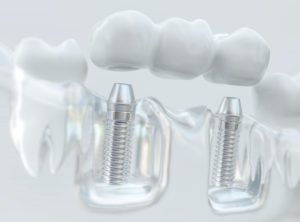 Are you researching options to replace your missing teeth? While you may have heard about dental implants before, did you know that they can be used to replace multiple teeth? This replacement option is typically more expensive than others, but dental implants can bring you a unique set of benefits that you simply can't get with other replacements. Keep reading to learn how dental implants can be used to restore smiles with multiple gaps back to their full beauty and function.
What Are Dental Implants?
Dental implants are small titanium posts that are placed in the jawbone to support your dental restorations. Because titanium is biocompatible, it fuses to your jaw to act as a natural tooth root. Dental implants can be used to replace one tooth, multiple teeth, or even full rows of pearly whites!
With proper care, dental implants can last a lifetime, making them an investment well-worth it. Plus, they're the only tooth replacement that preserves the health and strength of your jawbone, which keeps your remaining natural teeth in place and helps you enjoy a more nutritious diet.
Am I a Candidate for Dental Implants?
To see whether or not dental implants are right for you, you'll visit an expert dentist for a consultation. During this visit, they will examine your mouth to see how many teeth you're missing, where the implants need to be placed, and what type of dental restoration you may need. If you're missing consecutive teeth, you could benefit from a dental bridge that literally bridges the gap between teeth. For gaps more randomly throughout your smile, your dentist will recommend dental crowns (caps that mimic the natural look and feel of your teeth).
Another component of the consultation will be to evaluate your jawbone health. Your jaw needs to be strong enough to hold dental implants, especially if you need multiple. Your dentist may decide that you need a bone graft, a procedure that builds up your jawbone to accommodate implants. All of these factors will play a role in the time and cost of your procedure.
What is the Process Like?
After evaluating the number of implants you need and where you'll need them, your dentist will develop a treatment plan to restore your smile. Because dental implants need time to integrate with your jawbone, the process can take months. However, once they have become a permanent part of your body, you can enjoy a full, functional, and strong smile for life.
Does it sound like you could benefit from dental implants to replace multiple teeth? Contact your dentist for a consultation to get started on a complete smile.
Meet the Dentist
Dr. Leslie Metzger is an experienced dentist who takes pride in her ability to expertly place dental implants for lasting results. She currently practices at Monet Aesthetic Dentistry, and she can be contacted through her website or by phone at (248) 476-3410 for any questions.