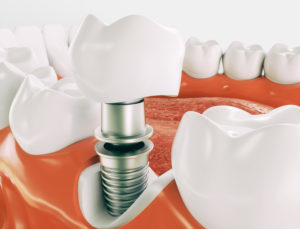 For individuals with missing teeth, dental implants are a popular solution to rejuvenate their smile and boost their confidence. Indeed, according to the Dental Products Report, more than half a MILLION dental implants were placed in the U.S. in 2017 alone. While dental implants can often last for decades – or even a lifetime – with proper care, problems can sometimes arise that lead to implant failure. Whether you already have a dental implant or are considering getting one to fill the gap in your smile, you will want to read the information below.
What is a Dental Implant?
A dental implant is a small titanium rod that is surgically placed into the jawbone to support an artificial tooth. Over time, the implant fuses with the bone through a natural process known as "osseointegration". By mimicking the natural tooth root structure, dental implants provide maximum support for new replacement teeth and enable patients to eat, speak and smile with confidence.
What Causes Short-term Dental Implant Failure?
With the American Academy of Implant Dentistry reporting a success rate of 98% for dental implants, implant treatment represents a reliable and effective tooth replacement solution. However, short-term failures can occur when the bone and implant fail to properly fuse together. Failed osseointegration is associated with factors such as:
Smoking
Uncontrolled diabetes
Poor oral hygiene
Gum disease
Low bone density
How to Treat Short-term Dental Implant Failure
If left untreated, individuals who have a failing implant may experience the following symptoms:
Oral pain
Shifting of the implant post
Bone loss
Bleeding
Pus formation
Fortunately, short-term dental implant failures can often be successfully treated. Treatment typically includes removing the implant and repairing the surgical site with a bone graft. Once the site has healed – a process which can take several months – a new dental implant can be placed.
What are Long-term Dental Implant Problems?
Long-term dental implant failure can occur after the implant has healed and successfully integrated with the jawbone. The most common long-term failure is peri-implantitis, a chronic infection in the gum and bone that supports the dental implant.
Symptoms of peri-implantitis may include:
Discomfort
Bleeding gums
Pus formation around the gums
If left untreated, peri-implantitis can result in the loss of bone around the implant and implant failure.
How to Treat Long-term Dental Implant Failure
According to research published in Head & Face Medicine, moderate peri-implantitis can typically be treated using antibiotics, either in pill form or when placed directly on the infected area around the implant.
Another treatment option is laser therapy, in which laser technology is used to destroy the bacteria around the implant.
For more serious infections, surgical treatment may be required to salvage the dental implant.
Dental implants can help restore your smile to its former glory but, like any treatment, complications can arise. To help ensure your dental implant remains a part of your smile for many years to come, be sure to practice excellent oral hygiene at home and visit a dentist in Farmington every six months.
About the Author
Dr. Leslie Metzger leads the team at Monet Aesthetic Dentistry in providing quality dental care with a warm, personal touch. A recipient of the prestigious Michigan Dental Association Public Relations Award, she strives to build meaningful relationships with each patient that walks through the door. Patient old and new can contact Dr. Metzger by visiting the Monet Aesthetic Dentistry website or by calling 248-476-3410.