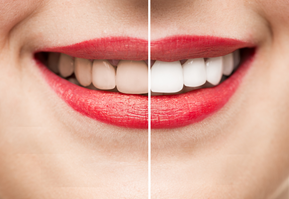 Your teeth have a special anatomy that allows them to help you chew and speak while smiling confidently due to their beautiful appearance. They are composed of three main parts: the enamel, dentin, and pulp. The enamel is the hard-outer layer, which is visible as the surface of the tooth. While it is vital to protecting the inner layers from damage, it is also responsible for the color of your teeth. Over time, it can become thinner, causing your teeth to yellow as the dentin becomes exposed. Not to mention, it can also stain, leading to a dull, discolored smile. Thankfully, your dentist in Farmington can restore it with a whitening treatment.

Revitalize Your Bright Smile
When your teeth start to discolor, there are many over-the-counter products available that claim to offer noticeable results. While they account for more than $1,400,000 in revenue each year, only a little over half of people who try them see any type of improvement. If changes do occur, it usually does not last.
Although these kits are convenient and affordable, they are ineffective because they do not contain professional strength whitening agents. As a result, they cannot deeply penetrate the enamel to resolve stubborn stains. The only way to lift them is with a professional whitening treatment from your dentist.
Whiten Your Smile at Home
Teeth whitening from a dentist is a safe and effective means to get your enamel several shades whiter. In fact, over 82% of people report to see a significant difference. Now, you have many different options available when it comes to brightening your smile. While you could choose the traditional method with an in-office treatment, you can also enjoy the convenience of a take-home kit. Unlike over-the-counter whitening products, take-home kits from your dentist contain professional-grade whitening agents to get your teeth several shades whiter.
First, you will need an initial consultation to determine if you are a candidate for the treatment. Then, impressions are taken to create custom-made whitening trays to ensure the even distribution of the whitening agent for consistent results.
You will be provided with the trays and the whitening gel to use at home for about two weeks. At the end of your treatment, your teeth will be several shades whiter with results that will last with the right aftercare, like maintaining your oral hygiene.
Get a Bright Smile Today
Take-home kits are the perfect solution if you have a busy schedule because you can whiten your teeth from the comfort of your own home. In as little as two weeks, you will have professional quality results for a bright confident smile.
About Dr. Leslie M. Metzger
Dr. Leslie M. Metzger is a trusted dentist who strives to create healthy, beautiful smiles in the community. In addition to receiving her dental degree from The Ohio State University College of Dentistry, she completed training in cosmetic dentistry from the prestigious Las Vegas Institute for Advanced Dental Studies. Supported by extensive qualifications and experience, she can help you reserve the appearance of tooth discoloration. Contact Monet Aesthetic Dentistry today to schedule a consultation.