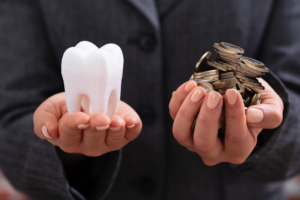 Unfortunately, almost a quarter of the U.S. population, or around 74 million people, don't have dental insurance. That makes it a lot more likely that they'll only see a dentist in Farmington when they're in pain, which is far from ideal. Routine dental care is a much better approach because it prevents dental problems, which is easier and less expensive than treating them. At Monet Aesthetic Dentistry, we've set out to make dental care (both routine and otherwise) more affordable for everyone by creating an in-house discount plan. Learn more about the plan and how preventative care benefits you below!
The Importance of Preventative Care
Here are just some of the ways regular checkups and cleanings keep your smile healthy and prevent the need for dental work over the long-term:
Keeps your gums healthy– Gum disease not only causes tooth loss but also increases your risk of serious conditions like heart disease, stroke and Alzheimer's. With regular cleanings, which include an annual gum exam, you can prevent gum disease altogether or at least manage it so it doesn't progress.
Helps you avoid emergencies – When Dr. Metzger is regularly monitoring your oral health, she can spot potential issues and treat them before they turn into an emergency situation. This prevents you from experiencing the pain and hassle of dental problems at inconvenient times like a vacation or a busy work week.
Minimizes big procedures –Many people don't feel a cavity until it's large enough that it's gotten close to the nerve of the tooth. At that point, it often needs to be repaired with a dental crown (and possibly a root canal) instead of a small filling.
Who Can Benefit From the Discount Plan?
Anyone who wants to save money on their dental bills.
People with insurance who feel like they're paying too much for their premiums without getting great benefits.
People who will be losing their dental insurance after retirement or when their employer stops offering it.
How Does It Work?
We offer a discount plan  for both children and adults, and it couldn't be easier to get started. You simply fill out an application and pay a one-time annual fee per person: $259 for adults and $159 for children. Here's what's included:
Two checkups per year (this includes your exam, cleaning, X-rays, and a professional fluoride treatment to prevent cavities)
30% off all other services
Emergency exams with the necessary X-rays
Everyone deserves a healthy smile, whether they have insurance or not. With our discount plan, you and your loved ones can get the high-quality dentistry you need, without breaking the bank.
About the Author
Dr. Leslie Metzger  is a family dentist in Farmington and a graduate of the Ohio State University College of Dentistry. As part of her commitment to making dental care accessible to everyone, she offers an in-house discount plan for patients of all ages.  If you have any questions or want to schedule an appointment, she can be reached via her website.