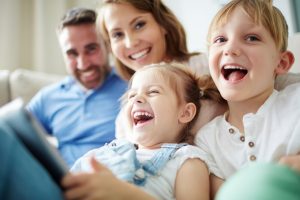 Your family's oral health means more than sparkling tooth enamel. Strong teeth and pink, intact gums form the foundation of your best smile. Regular visits to your dentist in Farmington,
Dr. Leslie M. Metzger, are key to that foundation. This highly qualified dentist takes care of your entire family's needs under one roof. More than just convenient, family dentistry builds solid doctor-patient relationships that last for years.
Preventive Care is for Everyone
From the youngest of patients and the most senior, everyone deserves excellent preventive dental care. So, beginning as toddlers, patients of all ages come to Monet Aesthetic Dentistry for check-ups and hygienic cleanings.
Here's what to expect during an oral examination:
Visual inspection for cavities, gum disease, tooth development and alignment and condition of existing restorations (Intraoral cameras and laser scanning are part of your state of the art examination.)
Digital X-rays as needed
Oral cancer screening for patients of all ages
Hygienic cleaning to remove bacteria-laden plaque and tartar
Dr. Metzger teaches young patients about hygiene practices and good nutrition. The dentist also recommends custom athletic mouthguards for sports and bite guards for TMJ (jaw joint) Dysfunction. These acrylic appliances protect against repetitive and traumatic injury. Regarding TMJ, your appliance will cushion your teeth, gums and jaw joints against the destructive forces of teeth clenching and grinding.
Also, the team at Mnet Aesthetic Dentistry places plastic sealants and fluoride treatments for children to guard them against tooth decay. A little prevention goes a long way toward preserving your family's natural tooth structure.
Restorations Bring Back Oral Function
No matter how diligent families are, they sometimes need restorative dental services for decay, dental abscesses, cracked teeth and other problems.  Included in this important care at Monet Aesthetic Dentistry are:
Tooth-colored fillings
ED4 CAD/CAM same-day porcelain crowns, inlays and onlays (partial crowns)
Tooth replacement with bridgework, dentures, and dental implants
Periodontal therapy with antibiotics and tooth scaling
Endodontics, or root canal, therapy
Dental implants to replace one or more missing teeth
Cosmetic Care Improves Appearance and Confidence
Teens and adults are often dissatisfied with how their smiles appear–even to the point that they hide their teeth. Dr. Metzger understands and can offer:
Invisalign clear braces for unnoticeable orthodontic correction of crooked smiles
Porcelain veneers to cover stains, chips and other flaws
Professional take-home teeth whitening to brighten stained tooth enamel
Composite resin bonding to fill small gaps, smooth overcrowding, and repair hairline fractures
While not necessary for good oral health, aesthetic improvements can change your outlook and self-confidence for the better.
Every Family Member Deserves Great Care
The best dentist for you and yours is at Monet Aesthetic Dentistry. Contact the office team to arrange your routine check-up and cleaning. We look forward to getting acquainted with you.