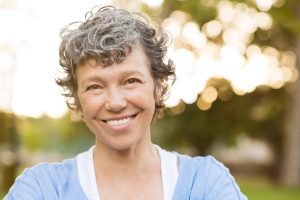 Living with one or more missing teeth affects every aspect of your life. You may find it difficult to chew and eat the healthy foods you used to enjoy. You may also feel self-conscious about talking or smiling in front of others because of your missing teeth. You probably didn't realize that it's also affecting your oral health. The good news is that there are solutions, and Dr. Leslie Metzger can help! Your dentist in Farmington discusses the benefits of a fixed bridge.
Missing Teeth Affects Oral Health
When you have one or more teeth missing, unfortunately it's a downward spiral for more tooth loss. This is because your jawbone no longer has roots to support, so it begins to deteriorate, which eliminates support for your remaining teeth. Your healthy teeth will begin to shift into the open space, and this causes bite misalignment, and increases your risk for damage and fractures to these teeth. In order to protect the integrity of your oral health, it's important to think about replacing your teeth.
How a Fixed Bridge can help
If you're missing one or more adjacent teeth, a fixed bridge may be an ideal option for restoring your smile. Using your healthy teeth as anchors for porcelain crowns, a bridge uses prosthetic teeth to literally fill in the gap and complete your smile. Dr. Metzger customizes your bridge to match your teeth, so no one will ever know your teeth were missing.
Because your bridge is fixed, and not removable, it's easy to care for, as you'll brush it like your other teeth. It's very important to keep your anchor teeth clean and healthy to ensure the longevity of your bridge; so regular dental checkups with Dr. Metzger are critical. Your bridge can potentially last for 8-10 years with the right care.
An Implant Supported Bridge
Dental implants can also be used as the anchors for a dental bridge. Implants are placed into your bone, which takes the pace of your missing root and keeps your bone from deteriorating. Dr. Metzger can use the implant crowns as the anchors for your bridge, which offers a more secure fit and even better longevity than a traditional bridge.
Contact Monet Aesthetic Dentistry
If you're living with missing teeth, and you're ready to reclaim your smile, we encourage you to contact our office today to learn more about possibilities for restoring your teeth.