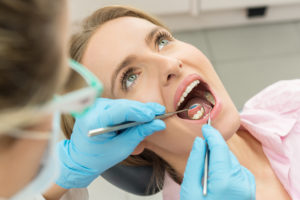 Do you wake up with headaches or jaw pain? Believe it or not, you may be grinding or clenching your teeth at night. Teeth grinding is a common issue and it could be contributing to your dental pain.
Luckily, your dentist is here to help you discover your teeth grinding habit and help you treat it. This way, you can get a full night's rest, pain-free once again!
What is Bruxism?
Bruxism is the medical term for teeth grinding or the clenching of teeth. While this can occur throughout your day, it mostly happens when a patient is sleeping. Since it mostly occurs while you're asleep, there are many patients that have no clue that they're doing it. But, there are a few tell-tale signs that can point to a teeth-grinding habit, like these symptoms:
A loved one hearing the sound at night.
Visibly ground-down teeth.
Regularly waking up with a dull headache or jaw pain.
Your dentist noticing damage like cracks or teeth damage during your dental appointment.
Your dentist can easily recognize the signs of bruxism during a normal dental exam, which is why it's so important to visit your dentist regularly!
Bruxism Could Have Harmful Effects!
There are long-term negative effects of consistent, relentless teeth grinding. These issues include:
Worn down tooth enamel
Tooth sensitivity
Chipped teeth
Loosened teeth
Tooth loss
When you suffer from the after-effects of long-term teeth grinding, you may need to get extensive dental work to repair the damages. You may need to consider getting dental crowns, bridges, root canals, implants, partial dentures, or even complete dentures.
Your Dentist Can Help You with Bruxism
Bruxism is common and easily treated when you have the help of a dental professional. Your dentist can have you fitted for a night guard with a quick and easy impression during your dental appointment.
This impression gets sent to a lab where your personalized mouth tray is made. Once the custom mouth tray comes in, it can be worn at night while sleeping or throughout the times of day when a clenched jaw may occur. This protects your teeth from the long-term effects of bruxism.
If you feel you are experiencing Bruxism symptoms, it is important for you to address them. Not only will it relieve your painful symptoms, but it'll also save you money in the long run!
---
Meet Your Dentist
Dr. Leslie Metzger has been serving the Farmington community and surrounding areas for years. She takes pride in helping patients correct their dental problems, but move forward with improving their oral health. She has countless professional affiliations, continued education, and compassionate care that are second to none in our Farmington community. If you would like to schedule a time to speak with Dr. Metzger about any of your dental problems, feel free to call our local office. We would be happy to help you!