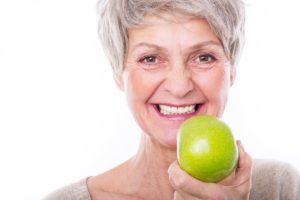 Modern advancements in dentistry allow dentures to feel more comfortable than ever. If they fit properly, you shouldn't experience any slipping or irritation; however, they may not feel as snug as time passes. A denture adhesive can be the ideal solution to stabilize your smile. Although an adhesive isn't always necessary, here's how to choose the best one for your specific needs.
Do I Need a Denture Adhesive?
Dentures that fit correctly usually don't require an adhesive to stay in place, but sometimes it can be beneficial. An adhesive can prevent small movements that might make it difficult to bite or chew. It can also stop food particles from getting trapped under your denture to avoid gum irritation and unpleasant odors. Not to mention, you can advantage from an adhesive if any of the following situations apply to you:
Frequent dry mouth, such as from using cold medications.
Public speaking or performing events.
Added sense of security.
Neurological disabilities increase the need for additional support.
Tooth extractions sites need time to heal.
What Are My Options for a Denture Adhesive?
Believe it or not, there are many types of denture adhesives available. You may need to try a few to determine which one best meets your needs and your preferences, such as:
Creams: 74% of food particles can be sealed out using an adhesive cream. It comes in a tube, which makes it easy to apply while also offering other benefits, such as reduced gum irritation.
Powders: An adhesive powder can hold your dentures in place for up to 12 hours, so you can eat, speak, and smile confidently. You'll simply sprinkle the zinc-free power on your denture to enhance its stability.
Strips: A strip can provide an all-day hold to keep food particles from underneath your denture. You won't need to worry about the mess of a cream or powder using pre-cut strips.
How Do I Remove the Adhesive?
No matter the adhesive you choose, it will need to be cleaned off your denture and gums nightly. Your mouth must be completely clean of any old glue before applying more adhesive or wearing your dentures again. It will take some time to determine the ideal amount to hold your denture in place while making it easier to remove.
It's best to rinse your mouth with warm water before using a soft toothbrush to clean your gums. You can dip the brush in a small cup of a mouthwash and water mixture to loosen the adhesive. Rinse your mouth well to remove any small balls that may form.
Don't forget to use your toothbrush to clean your denture. Rinse it under warm water and brush gently to remove the adhesive, bacteria, and food particles.
About Dr. Leslie Metzger
Dr. Metzger earned her dental degree at the Ohio State University College of Dentistry and has completed advanced at the Las Vegas Institute. She remains current with the latest technologies and techniques to deliver modern services. If you're ready to replace your missing teeth, contact our office today to schedule your consultation.