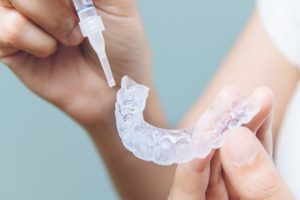 Discoloration of your teeth can have many culprits – tobacco products, pigmented beverages, aging, and more. It's natural in some cases and something you can control in other instances, but the good news is that there are teeth whitening products to help you.
Should you seek out a take-home whitening kit from your dentist or just go to the pharmacy for a store-bought kit? Well, the American Dental Association (ADA) believes there is a clear choice. Keep reading to learn more on the matter from your dentist in Farmington.
Why Should I Think Twice About a Store-Bought Whitening Kit?
Store-bought whitening kits don't usually deliver the dream results that you hope for because the whitening agent isn't nearly as powerful as the one present in professional kits. Here are a few of the ways this type of teeth whitening can be harmful to your smile:
Aggravates dental issues: If you have a dental issue, like a cavity or crack, store-bought whitening kits can make it worse and much more painful than it was initially. The whitening agent can seep into small crevices and travel to the root of the tooth. This is incredibly painful and can require root canal therapy to fix. With professional teeth whitening kits, your dentist will check your teeth initially for any dental issues before moving forward in the process.
Damages protective enamel: When they aren't being used properly, store-bought kits can cause enamel erosion. This is because many of them contain sodium bicarbonate and hydrogen peroxide. In the end, this can expose the dentin beneath the enamel of your teeth. This means additional discoloration, sensitivity, and pain.
Hurts gum tissue: Whitening kits that you get from the store can damage your gum tissue because of the peroxides that are used in them. When you choose whitening strips or gel trays, there is often unnecessary contact between your gums and the whitening agent. With professional kits, the trays are made to fit your teeth perfectly and prevent soft tissue irritation.
Why Can a Professional Take-Home Whitening Kit Be the Right Choice?
To achieve more dramatic results more safely, professional take-home whitening kits are recommended. First, your dentist will look at your teeth and gums to look for any existing oral health problems so they can be addressed before proceeding. You will be provided with custom-fit mouth trays and a potent whitening gel to lift stains from your teeth. After wearing the gel-lined tray for about two weeks, you will see your teeth become noticeably brighter.
It's understandable you want whiter teeth, but don't put your oral health at risk. Discuss whitening options with your dentist in Farmington. Make the best choice for your smile so that it will gleam for many years to come.
About the Author
Dr. Leslie Metzger earned her dental degree from The Ohio State University, and she makes sure to stay current in the field through continuing education. She has attended cosmetic dentistry programs at the prestigious Las Vegas Institute for Advanced Dental Studies and is a member of the American Association of Cosmetic Dentists. If you are interested in teeth whitening, Dr. Metzger is proud to offer Opalescence take-home kits. They are extremely effective because they use a powerful bleaching gel properly applied by a set of comfortable, customized mouth trays. In two weeks, you can brighten your teeth by up to eight shades. To schedule a consultation, visit her website or call (248) 476-3410.