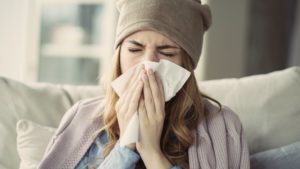 As the weather finally starts to warm up, you're probably itching to spend some time outside. In fact, if you suffer from seasonal allergies, your eyes or throat might literally be itching. All of the sneezing and sniffling that is common around this time of year is certainly annoying. But did you know it can also harm your smile? Read on as a family dentist in Farmington explains the connection between allergies and oral health – and how to keep your smile safe.
Why Your Allergies Flare Up in April
Most people with seasonal allergies feel them peak twice a year: once in the spring and again in the fall. The most common reason behind the unpleasant symptoms is pollen. During this time of year, plants like trees, grasses, flowers, and weeds release small grains into the air, where the wind carries them away to fertilize other plants. While this process is essential in creating new plant life, these particles are infamous for irritating many people's oral and nasal passages.
How Allergies Can Lead to Poor Oral Health
It's important to know that allergies themselves don't directly cause oral health issues. However, they often lead to dry mouth. This typically occurs as a side effect of taking antihistamines to treat allergies. Mouth-breathing because of a stuffy nose will also dry out your mouth.
In the short term, this isn't a huge deal, but chronic dry mouth can seriously harm your smile. Saliva plays a key role in your oral health by washing away lingering food debris and bacteria. Without enough saliva, however, bacteria in your mouth are able to thrive and interact with the sugars you eat to create acid. These acids can inflame your gums and erode tooth enamel, contributing to gum disease, cavities, and more.
Keeping Your Smile Healthy During Allergy Season
Luckily, dry mouth can easily be prevented – just drink more water! Not only is staying hydrated great for your whole body, but it will also stimulate saliva production and rinse harmful particles off of your teeth and gums. Plus, tap water usually contains fluoride, a mineral that naturally fights cavities. Try to keep a bottle of water with you at all times so that your mouth stays lubricated.
If you have trouble drinking enough water, you could chew sugar-free gum a few times a day. Chewing helps your mouth produce more saliva. Putting a humidifier in your bedroom can also help keep your mouth moist. If these remedies don't help, talk to your dentist to ensure your dry mouth isn't caused by an underlying dental condition.
Are you ready to enjoy the new spring warmth? Keep these tips in mind to make sure your smile stays healthy!
About the Author
Dr. Leslie Metzger is a dentist in Farmington, MI who earned her dental doctorate from The Ohio State University College of Dentistry. She is also an active member of the American Dental Association and the Michigan Dental Association. She enjoys forming lasting relationships with her patients while helping them maintain healthy smiles. To learn more about protecting your oral health during allergy season, you can reach her office at (248) 476-3410 or visit her website.