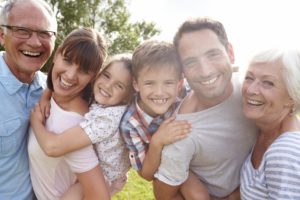 What's the first feature that you notice when you first meet someone? Typically, it's their smile! One of the worst first impressions you can make is beaming brightly with a mouth crawling with tooth decay.
How can you avoid tooth decay other than practicing excellent dental health care at home? Ask your dentist about fluoride treatments and how this service can help protect your beautiful smile.
Fluoride Treatments for The Family!
Have you ever wondered how preventive dentistry really works to protect you and your loved one's teeth? Fluoride is one of the preventive services that help teeth stay strong and durable against decay.
Fluoride, a mineral that occurs naturally in many foods and water, protects teeth from cavity-causing strengthening your smile's enamel (protective layer). With that being said, there are still many patients who are fluoride-deficient that may need a bit of assistance.
Diminish the Decay with Fluoride Treatments
The dental bacteria that can be found in the sticky film (plaque) that resides on your teeth produce acids if not removed and mixed with sugary drinks and foods. This acidic mixture seeps into your tooth's enamel, causing it to break down. After a while of this happening, you'll begin to develop cavities. The great thing about fluoride is that it helps to strengthen your enamel against tooth decay.
Fluoride Intake Is Important at All Ages—Especially for Children
Exposure to fluoride can be especially beneficial for infants, children, and adults alike. Fluoride treatments are especially recommended if your child is between 6 months and 16 years old.
Consider making these treatments apart of their dental routine when they visit their dentist in Farmington. Since their mouths and teeth are still always developing, it's important to protect their teeth from decay as much as you possibly can to avoid dental problems in the future.
Kids aren't the only ones that need a little extra help protecting their teeth. Adults and children alike need to get enough fluoride to keep their smiles strong. Fluoride treatments are a great way to help you do that even after your permanent teeth have come in.
Are You a Suitable Candidate for Fluoride Treatments?
You may just be the perfect candidate for fluoride treatments if:
You are a child or adolescent.
You currently have cavities.
Your tooth roots are exposed.
You suffer from chronic dry mouth.
You have existing fillings.
You have tooth enamel dental problems.
You battle with an eating disorder.
You have or had a drug or alcohol problem.
You're currently undergoing radiation therapy for your head or neck.
Fluoride treatments are just one of many services we provide to keep your smile healthy and strong. If you have more questions about preventive care, feel free to reach out to your dentist.
Meet the Doctor
Dr. Leslie Metzger is pleased to offer beautiful smiles that last! With extensive experience in the dental field, Dr. Metzger works hard to keep her patients smiles happy and healthy. The best way Monet Aesthetic Dentistry can help patients do that is by offering fluoride treatments to prolong the healthy lifetime of your teeth. You can give our office a call by dialing (248) 939-5265 for any questions about your preventive care.