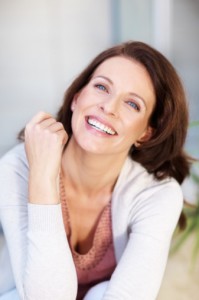 A great smile can change the way other perceive you. A recent unemployment study showed that people with straight, white teeth were more likely to get a job, were often paid more than those with crooked, stained or missing teeth, and a great smile also helped people get promotions. It may not be intentional, but we all make assumptions about people based on appearance. Hopefully, we can see past the surface level appearances as we get to know someone, but it doesn't hurt to have an advantage. Invisalign can give you the beautiful, perfectly aligned smile you've always wanted. Call Monet Aethetic Dentistry in Framington, MI to find out more about Invisalign and all of our cosmetic dentistry services. We're the Invsialign experts in the area, and always worth the short drive from Northville, Livonia and surrounding communities.
About Invisalign
Traditional braces work by using a system of brackets bonded to your teeth and moved by wires to gradually shift your teeth. This alignment method has worked for years, and is still very effective for treating bite irregularity. However, traditional braces aren't the most aesthetically appealing option, they can be very painful, and difficult to care for. With Invisalign you can have the great results offered by traditional braces with fewer office visits, in a shorter amount of time, and without a mouth full of metal.
Invisalign clear braces are essentially clear alignment trays that gently shift your teeth into place. Utilizing natural resistance from your teeth, the trays apply pressure on your teeth that will cause them to move over time. Your teeth are easily shifted within your mouth because they held in place by soft, gum tissue. Unlike traditional braces, you don't have to visit your dentist to have wires tightened. Simply replace the alignment trays every two weeks, and make a few periodic appointments so your dentist can ensure that your adjustment is progressing as planned. Within a year, you will have a picture-perfect smile without the pain and hassle of traditional braces.
Who Should Consider Invisalign?
Invisalign is a great dental alignment tool for anyone, but working professionals, patients with extremely sensitive teeth or gums, and patients who struggle with self-image will benefit most. While missing school to make regular orthodontic visits was fun, having to frequently miss work for appointments is much more problematic. Invisalign requires less than half the number of dental appointments to be effective. Patients of all ages who suffer from tooth or gum sensitivity have reported less discomfort with Invisalign compared to traditional braces. Finally, anyone who struggles with self-esteem would benefit from this way to improve their appearance without the added embarrassment of braces.
Find Out More
If you're looking for a job, coming up for a promotion, or just want to make a great first impression, let the professionals at Monet Aesthetic Dentistry help you achieve your best smile. Call our Farming, MI practice to schedule an appointment. Have a question? Our convenient ask the doctor tool is a convenient way to reach Dr. Leslie Mezger between visits. We invite patients from surrounding communities including Northville, Livonia, Farmington Hills, West Bloomfield, Southfield, Plymouth, and Oak Park.