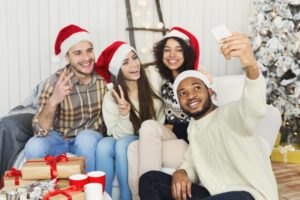 Among many holiday traditions shared by families during Thanksgiving, one common one is for each member of the family to mention something that they're thankful for. If you're someone who wishes that they could be thankful for a straighter smile, you're not alone! In just the last year, more than 900 thousand patients received Invisalign dental trays in order to improve their smiles. With so many advancements in cosmetic dentistry, it is easier than ever to have straighter teeth. Your Farmington Invisalign experts can help you achieve the goal of an improved smile and give you the information you need to know about how it works and all of the health benefits that come with it.
How Does Invisalign Actually Straighten Teeth?
Invisalign works like traditional braces in that it straightens crooked or crowded teeth. Instead of it taking years, however, many patients have straightened teeth within months. Instead of visiting the orthodontist regularly to have metal wires tightened, the dentist will provide brand new trays every two weeks, which will also allow the patient to see the progression more visibly over time as their teeth are straightened. But let's be honest, the best part about Invisalign is that it is basically invisible! No one should have to feel self-conscious while improving their smile, and Invisalign gives patients the power to perfect their smiles with confidence throughout the process.
What Are the Health Benefits of Having Straighter Teeth?
A confident smile provides higher morale, the ability to feel secure in building relationships, and the courage to pursue greater professional opportunities. While all of these cosmetic benefits are important, there are also several health benefits that come with an improved smile:
Straight teeth are easier to keep clean. When teeth are crowded, it makes flossing difficult, which prohibits the removal of plaque buildup. The easier the flossing process is, the more likely a person is to do it on a regular basis.
Clean teeth are healthier teeth. This one speaks for itself, but healthier teeth are less likely to have cavities and more likely to stay intact for years to come.
The healthier and straighter the teeth are, the better condition the gums will be in. Often, gums will swell due to misplaced or overcrowded teeth. Straightening teeth can correct this issue, which will prevent future gum disease.
Teeth that are straight will undergo less wear and tear over the years. Teeth are one of the hardest workers when it comes to the body. With all of the pressure they are under, it's important to straighten them early on in order to alleviate additional issues down the road.
With straighter teeth, speech becomes improved. Although talking seems mostly related to the tongue, gaps and crookedness in the teeth can affect speech patterns and the way a person is able to communicate. Straighter teeth not only increase confidence when speaking, but they also improve the quality of speech.
Overall health is improved with straighter teeth. Poor dental health has been linked to heart and kidney disease, diabetes, and more. Straight teeth are healthier teeth, and healthier teeth promote overall wellness.
Every patient's needs are different when it comes to straightening teeth, but the benefits are the same across the board. Add to your list of things to be thankful for this season, and talk to your dentist about how you can improve your smile with Invisalign!
About the Author
Dr. Leslie Metzger is passionate about improving both her patients' confidence and health at the same time. She always provides the most up-to-date dental care while focusing on her comfort as a priority. She is also committed to furthering her education and has been appointed to the Michigan Dental Society's Continuing Education Committee. Her success in serving her community is evident to everyone she cares for and in the growth of her practice. We encourage you to visit Monet Aesthetic Dentistry online for more information or call us at (248) 939-5265.