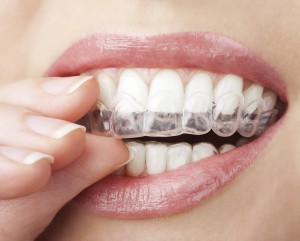 Orthodontics have come a long way over the years. Treatment doesn't take nearly as long as it used to. And if you don't want people to know that you're wearing braces, well then Dr. Leslie M. Metzger and her staff at Monet Aesthetic Dentistry in Farmington, MI, won't tell. Moreover, we can straighten your teeth with Invisalign clear plastic aligners so your teeth won't tell either!
If you didn't have the opportunity for braces in childhood, but you've always longed for a straighter smile, then Invisalign may be the answer now. Invisalign uses a system of clear, smooth, BPA-free plastic aligners to gradually move your teeth into their proper position. Treatment usually takes about one year, and then you'll have the smile you've always wanted.
The Invisalign Process
The first step toward a straighter smile with Invisalign is a consultation with Dr. Metzger at which time the two of you will discuss your smile goals. We'll take x-rays, photographs and molded impressions of your teeth that Invisalign will use to create a 3D image of your existing smile. With this, Dr. Metzger will develop a treatment plan that will give you a visual of how your teeth will look after treatment. Invisalign will use this same treatment plan to fabricate your customized aligners.
Your Invisalign aligners resemble plastic retainers and come in a series of sets—one for your lower arch of teeth and one for the upper. You'll wear each set for two weeks, removing them only to eat and brush and floss your teeth. As you work your way through the series, you'll see your teeth gradually shift into their proper places. Of course, Dr. Metzger will need to see you in the office occasionally to monitor your progress. At the end of your treatment, you'll have a confident and beautiful smile.
Call Our Office Today
If you would like to learn more about Invisalign, then schedule a consultation with Dr. Metzger at Monet Aesthetic Dentistry in Farmington, MI. We also see patients from the surrounding areas of Farmington Hills, West Bloomfield, Livonia, Southfield, Plymouth, and Oak Park.