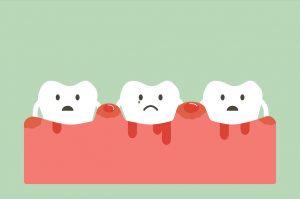 Did you know that half of all adult Americans have some form of gum disease? Even though this condition is so common, it should be taken seriously. But how does gum disease develop? Is there any hereditary component to this dental malady? In this post, the team at Monet Aesthetic Dentistry teaches you what you need to know. Get the facts you can trust from Dr. Leslie Metzger, your dentist in Farmington.
What Causes Gum Disease?
Gum disease, or gingivitis, is the infection and inflammation of the tissue surrounding your teeth. It is caused by oral bacteria and can progress through several stages of periodontal disease, often leading to tooth loss in the most advanced phases. Dr. Metzger explains that there are several factors that contribute to the development of this issue, including:
Poor Oral Hygiene

– Skimping on brushing and flossing is the most prevalent cause of the development of gum disease.

Family History

– Recent research suggests a connection between heredity and your susceptibility to gum disease, especially to aggressive periodontitis.

Passing It Along

– Gum disease is contagious. It's common for the infection to be passed on from parents to kids by sharing beverages, kissing on the mouth (especially when babies are very young), and when parents use their own mouths to clean pacifiers and then give them back to their little ones. Parents should be aware that gum disease is contagious and do their best to avoid passing along periodontal germs.
How Can I Prevent Gum Disease?
There are many strategies that Dr. Metzger recommends to prevent gum disease and to stop it from advancing. Use the tips below to keep your smile healthy and bright:
2×2 – Brush your teeth gently for two minutes, twice a day.
Limit Sugar – Oral bacteria thrives on sugar, so avoid sugary foods and beverages like soda and fruit juice that essentially bathe your teeth in sugar with every sip.
Floss – Since brushing alone leaves almost half of your teeth without proper care, floss at least once a day to clean the 40% of surfaces that brushes can't reach. While twice daily is better, if you're only able to squeeze this in once, floss before bedtime to get the most out of your routine. Use a satin style dental tape if flossing is uncomfortable and brush up on your technique by watching this quick flossing video.
Avoid Dry Mouth – Aside from sugar, the germs that cause gum disease also increase dramatically in a dry mouth. Drink lots of water to stay hydrated and or try an over-the-counter mouthrinse that can help increase your saliva production.
See Your Dentist – No matter how great a job you do at home, no oral hygiene regimen can replace professional dental care. See your dentist at least every 6 months so she can remove the plaque and tartar buildup that impacts your gums.
Now that you know some vital facts about gum disease and how you can prevent it, schedule your appointment with Monet Aesthetic Dentistry to get the deep clean you deserve and prevent tooth loss from gum disease!