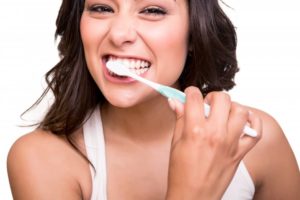 After a long hard day at work, you slump onto the sofa and shut your eyes. Next thing you know, your kids are running up to you excited and demanding that you play with them. After looking in their eyes, you realize you can't say no. You'd do anything to keep them happy.
That's why you'd take the time to learn the best healthy habits for them to have. In fact, it seems you could use a checkup in the near future. Thanks to our wonderful dentist in Farmington, you'll learn how your practice is here to help make your oral care regimen an easy one.
The Importance of Preventive Care
Preventive care is what keeps gum disease and tooth decay at bay. It prevents periodontal disease from forming and removes plaque you gained throughout your day. Without preventive at-home care, your teeth wouldn't stand a chance against the elements you expose it to daily.
That's why your dentist in Farmington emphasizes preventive care through three easy habits. The first, is to brush your teeth twice a day with a fluoridated toothpaste. While it doesn't matter when you do it, the ADA recommends you do this to prevent gum disease and tooth decay. The second is by flossing at least once a day to remove plaque from places your toothbrush can't reach. Finally, you'll want to see your dentist at least twice a year for checkups and cleanings.
Be sure to introduce these habits to your kids early so they don't lose their baby teeth too soon.
Helping Your Kids Stay Healthy
When it comes to kids, it can be difficult to introduce them to something as complex as brushing and flossing. That's why joining them to supervise and make oral habits fun can make a big difference later in life.
When their first tooth erupts, only use a grain-sized amount of toothpaste to brush. Hold off on flossing until you see two teeth touch, and be sure to bring them in for their first dental visit as soon as the first tooth comes in. If you're trying to get them more interested in brushing, introduce a themed toothbrush or floss that they recognize. Try including a song that's at least two minutes long so you can both make your oral care regimen an enjoyable one and acclimate them to the amount of time needed for thorough brushing.
Our Practice's In-House Benefits Plan
Thanks to Monet Aesthetic Dentistry's in-house benefits plan, new individual patients and families can receive high-quality dental care at an affordable rate. This reduced membership plan has no monthly premiums and no hidden fees.
We provide this plan because our practice understands the importance of efficient group care. Now you can receive the same personalized high-quality attention and premium service our practice provides without having to worry about providing care to the whole family.
To learn more about this plan and preventive tips for you and your family, schedule a consultation with your dentist in Farmington today!
About the Author
Dr. Leslie M. Metzger earned her bachelor's degree from Michigan State University before earning her dental degree from The Ohio State University College of Dentistry. She is also a founder and chairperson of the OCDS's Children's Dental Health Month Program and recipient of the Michigan Dental Association Public Relations Award, showing her dedication to children's oral health. To learn more about her practice, contact her at (248) 476-3410 or visit her website.