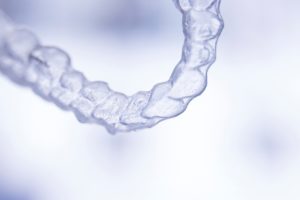 If you've decided to straighten your smile using Invisalign in Farmington, you've chosen a discreet and sophisticated solution. Clear plastic aligners are worn over your teeth to gradually move them into their ideal positions. Since they are small and transparent, it's easy to misplace one. If you lose an aligner, here are some important steps to follow to ensure you don't add unnecessary delays to your treatment plan.
Why is Every Aligner Necessary?
Your treatment consists of individual aligners that are carefully designed to move your teeth into alignment. You wear an aligner over your teeth for at least 22 hours per day to apply consistent pressure to reposition them. On average, you'll switch to a new aligner every 1-2 weeks until you're finished with your series. If an aligner is lost, skipping it can create a kink in your plan. Your dentist in Farmington can get you back on track to ensure you complete your treatment on time.
What Do I Do If I Lose an Aligner?
If you can't find your aligner, don't panic! It's best to start retracing your steps to see if you find it, such as checking the kitchen table if you had lunch or the bathroom counter if you've recently brushed your teeth. If you still can't locate the aligner, it's time to take your search to the next level. Look in any small spaces when your aligner might have fallen, like in between the couch cushions. If your efforts come up empty, it's time to contact your dentist.
Your dentist may recommend a couple of different solutions depending on where you're at in your series. If you only recently began wearing the aligner, they may advise you to use a previous one until your new aligner arrives. If you're only a day or two away from switching to the next one in the series, they may suggest using it early.
How Can I Avoid Losing My Aligner?
One of the greatest advantages of Invisalign is that the aligner is removable. Although this offers exceptional convenience, it also makes it easy to lose an aligner. Thankfully, you can better keep track of it by following a few simple tips:
Create a designated spot for your aligner when you're not wearing it.
Only remove it from your mouth when it is absolutely necessary, like when eating or brushing your teeth.
Don't place your aligner on a lunch tray or table to avoid accidentally throwing it in the trash.
Always keep your aligner in its storage case when it isn't in your mouth.
If you lose an aligner, you're not alone. Your dentist can help you get past the hiccup in your plan to complete your series without any delays.
About Dr. Leslie Metzger
Dr. Metzger earned her dental degree from The Ohio State University College of Dentistry. She has completed advanced studies in many specialties, like Invisalign. If you're ready to achieve a straight smile without metal braces, contact our office today to schedule your consultation.