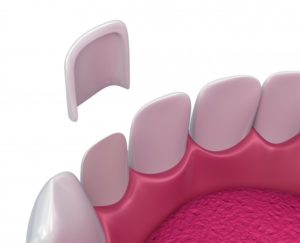 You took the leap, and now you're finally enjoying a perfect smile with the help of porcelain veneers! Thanks to your new and improved appearance, you've been feeling happier, more confident, and ready to take on the world. Since your teeth are beautiful and free of chips, cracks, and stains, do you still need to worry about cavities? While your porcelain veneers won't experience decay, the teeth they protect still can! If you want to keep you smile looking confident for years, you need to protect it. Find out how you can still get cavities with porcelain veneers, and what you can do about it!
How Do Porcelain Veneers Work?
Porcelain veneers are ultra-thin, durable shells that are permanently attached to the front of your teeth to conceal small cosmetic imperfections. They can change the size, shape, and color of a tooth, which makes them ideal for masking issues like cracks, chips, stains, or small gaps. These tooth-shaped coverings are made of white dental porcelain, which is well-known for mimicking the lifelike shine of natural teeth and being stain resistant. While it may weaken overtime, it will not decay like your natural teeth.
Can I Get Cavities with Porcelain Veneers?
Although the porcelain veneer itself won't get any cavities, the tooth it's attached to still can. You can still get cavities with porcelain veneers if:
The veneer doesn't fit properly or wasn't installed correctly. For a porcelain veneer to fit seamlessly into your smile, a layer of enamel needs to be removed. If part of this thinned enamel is exposed because your veneer isn't on quite right, it can easily get cavities.
You don't keep up good oral hygiene. Remember, porcelain veneers only protect the front of your tooth. If you don't practice regular brushing and flossing, the plaque that builds up can cause cavities on the adjacent side.
Medications, health conditions, or lifestyle choices cause chronic dry mouth. Your saliva is your body's natural defense against plaque. Without it present to act as a natural, constant mouthwash, bacteria can grow unhindered and quickly eat away at your enamel.
How Can I Protect My Smile?
Make sure that you're taking the best care of your new smile by preventing cavities with these simple tips:
Maintain a regular dental routine that includes two minutes of brushing every day and daily flossing.
Stay hydrated to prevent dry mouth and rinse away bacteria that can cause cavities.
See your cosmetic dentist regularly to identify and treat any issues as early as possible.
Remember, even though your porcelain veneers are safe from decay, the teeth they're attached to can still get cavities. However, if you take care of them just as well as your natural teeth your smile can stay bright and cavity-free for years to come!
About the Author
Dr. Leslie Metzger is a preventive, restorative, and cosmetic dentist who practices at Monet Aesthetic Dentistry in Farmington, MI. She is a graduate of The Ohio State University College of Dentistry and has completed numerous courses at the prestigious Las Vegas Institute for Advanced Dental Studies. There, she received advanced training in a range of cosmetic treatments, including porcelain veneers. If you'd like to know more about porcelain veneers or how to keep them cavity-free, she can be reached at her website or at (248) 476-3410.