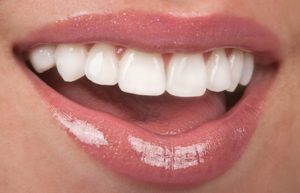 Have you ever wanted the same dazzling smile as celebrities like Morgan Freeman, Tom Cruise, or Celine Dion? The secret to these perfect smiles and many more is a cosmetic dental enhancement call porcelain veneers. They are an excellent solution for transforming misshaped or discolored teeth into an incredibly beautiful smile! With the proper care, your improved teeth could stay bright and stain-free for 15 years or more. How do porcelain veneers manage to stay so pristine for so long? Read on as your cosmetic dentist dives into the science behind keeping your new porcelain veneers white and how to add years to their lifespan.
What Are Porcelain Veneers?
Porcelain veneers are ultra-thin and extremely durable shells of porcelain that are permanently attached to the front of your teeth. These tooth-shaped coverings hide imperfections like cracks, chips, stains, and gaps with the visage of a perfect tooth. White dental porcelain mimics the look of enamel and reflects light in the same way that natural teeth do. It's also praised for being biocompatible, which means that it will not irritate or damage your gums. All in all, veneers are known for being dependable, impeccable, and even resistant to staining.
Why Don't Porcelain Veneers Stain?
Your natural teeth are slightly porous, which means that the protective layer of enamel is full of tiny holes. These pores are healthy, but they also provide a foothold for surface stains. Porcelain veneers are entirely smooth, with no openings for discoloration to latch onto. This is thanks to a coating of special stain-resistant resin that fills any tiny openings to prevent any changes in hue.
However, this resin does wear away over time, which can make them more susceptible to discoloration and surface damage. While porcelain veneers typically last 10 to 15 years, there are ways you could be unintentionally shortening their lifespan.
How Can the Lifespan of Porcelain Veneers be Extended?
If you take care of the resin that coats your porcelain veneers, they can last years longer than average. To keep them bright, make sure to do the following:
Avoid hard, sticky foods that wear and tear the resin.
Quit smoking to keep the edges of your veneers from discoloring and promote better oral health.
See your cosmetic dentist every six months in order to identify and treat issues as early as possible.
Although porcelain veneers are incredibly stain-resistant, they're not totally immune to discoloration. With the proper dental care, you can keep them as spotless and beautiful as the day you got them for years to come.
About the Author
Dr. Leslie Metzger is a highly experienced preventive, restorative, and cosmetic dentist in Farmington, MI. She is a graduate of The Ohio State University College of Dentistry and member of the American Association of Cosmetic Dentists. Thanks to her specialized training in cosmetic dentistry from the prestigious Las Vegas Institute for Advanced Dental Studies, she would be happy to enhance your smile and your quality of life for years with porcelain veneers. If you have any questions, she can be reached at her website or at (248) 476-3410.