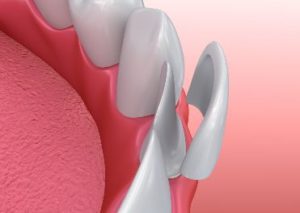 According to the American Dental Association, people consider someone's smile their most important feature – even more so than their hair, eyes and body. It's no wonder that everyone wants a beautiful smile! If you can count yourself in that category, you probably want to correct some of your cosmetic flaws so you can enjoy all the benefits that a beautiful smile has to offer. While there's no question that porcelain veneers are a wonderful way to do that, what kinds of imperfections are they good for – and is everyone a candidate? Keep reading to find out!
What Kinds of Issues Can Porcelain Veneers Fix?
Porcelain veneers are very thin, strong "shells" that are adhered to the front of the teeth, completely masking their original appearance. Here are some of the cosmetic issues that they're perfect for:
Severe stains – Some stains don't respond well to whitening treatments, including those from fluorosis or taking tetracycline (an antibiotic) in childhood.
Small or misshapen teeth – Oftentimes genetics are responsible when some of the front teeth are very small (also called "peg laterals"), or otherwise shaped differently than the rest of the teeth.
Minor gaps or crowding – Veneers won't work for large gaps or major crowding, but there are cases where veneers can be used instead of braces to correct these minor issues!
Chips and cracks – If you have chipped or cracked teeth, porcelain veneers are a great way to restore their appearance and make them look brand new again.
Veneers are matched precisely in shape and color to the rest of your smile so that they look very natural. Also, porcelain is one of the best materials for veneers because it's very strong and also stain-resistant. The question is, are you a good candidate?
Do Porcelain Veneers Work For Everyone?
Unfortunately, while porcelain veneers are a great choice for many patients, no cosmetic option works for everyone! Here are some examples of patients that may not benefit from this procedure:
Significant crowding – In many cases of significant crowding, veneers won't lay quite right, which can result in an uneven final result.
Failing teeth or gums – The teeth and gums need to be reasonably healthy to support veneers. Just as your house needs to have a good foundation before putting a new roof on it, your oral health is the foundation of your smile.
Misaligned bite – If your bite is off, the chewing forces on your front teeth can actually chip or break your new veneers, so it's important to have that corrected first before investing in this procedure.
Porcelain veneers are one of the most popular options in cosmetic dentistry for a reason. If you'd like to know whether they would work for you, a great first step is scheduling a consultation!
About the Author
Dr. Leslie Metzger is a general and cosmetic dentist who has used a wide variety of cosmetic procedures, including porcelain veneers, to give her patients the beautiful smile they've always wanted. She always starts by closely evaluating each patient's unique needs and goals so she can recommend the best cosmetic option for them. If you have any questions, she can be contacted via her website or at (248) 476-3410.