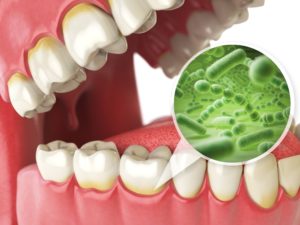 Did you know cavities aren't the only threat to your smile? Gum disease is a leading cause of tooth loss. According to the Centers for Disease Control and Prevention, at least 50% of adults have gum disease. Thankfully, the infection is easy to treat without causing any long-term damage to your smile when caught in the earliest stage, called gingivitis. Without any treatment, it can be detrimental to your dental health, but the American Dental Association considers it contagious. Here's what you need to know to restore your gum health. 
What is Gingivitis?
Gingivitis is the earliest stage of gum disease, which causes redness, inflammation, and bleeding of the gum tissue. Although the initial symptoms aren't alarming, if the infection is allowed to progress, gingivitis can become periodontitis. Advanced gum disease can destroy the supporting structures of your teeth, causing them to fall out. Not to mention, the infection may enter your bloodstream, increasing your risk of various health issues, like cardiovascular disease and Alzheimer's disease.
Besides the consequences for your oral and general health, the infection may also spread to your loved ones. Researchers have found bacteria responsible for gum disease can be exchanged by sharing silverware, cups, or even a kiss.
Although the infection can spread, it's unlikely it will cause a child or partner to develop gingivitis. Various other factors are more likely to lead to the infection, like poor oral hygiene habits or smoking. You won't have to keep your distance when undergoing gum disease treatment.
Restoring a Healthy Smile
Often, better oral hygiene habits are all that's needed to treat gingivitis to prevent it from worsening. If your gums are red, swollen, or bleeding, contact your dentist for an appointment. While you wait for your visit, improve your oral hygiene routine at home. Brush, floss, and use a daily mouthwash. Avoid anything that may worsen the infection, like smoking or drinking alcohol.
Your dentist will examine your mouth to create a personalized treatment plan, which may involve scaling and root planing. Also known as a deep cleaning, it involves removing bacteria and tartar from above and below the gum line while smoothing the root surfaces to allow the tissue to seal to your teeth. In some cases, antibiotics may be used with gum disease therapy.
With the right oral hygiene habits at home and regular dental care, you can avoid gingivitis in the future. Your cleanings and checkups allow your dental team to remove any buildup left behind by brushing and flossing while monitoring your gum health.
Don't let gingivitis come between you and your loved ones. Schedule an appointment with your dentist at the first sign of an infection.
About Dr. Leslie Metzger
Dr. Metzger earned her dental degree from The Ohio State University College of Dentistry before continuing her education at the Las Vegas Institute. She has advanced training in many areas of specialty, including periodontal disease. If you have red or bleeding gums, contact our office today to request your consultation for gum disease treatment.