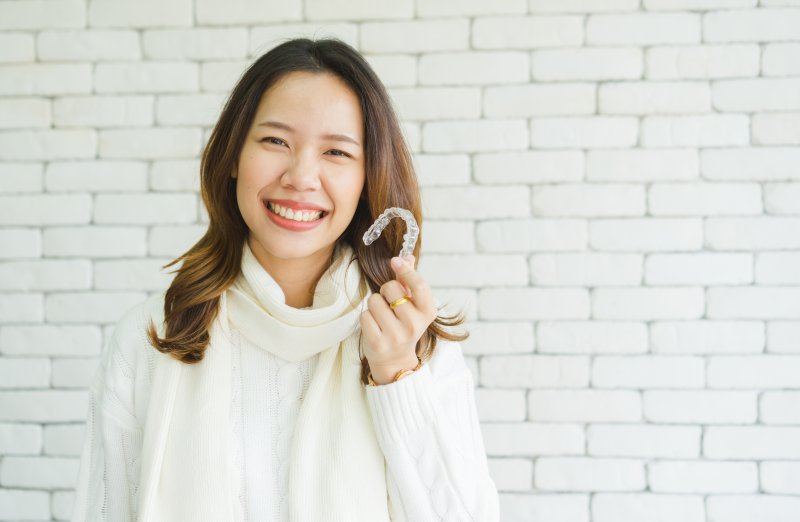 If you recently started wearing Invisalign, you have probably noticed that it takes some getting used to. From cleaning your aligners to remembering to brush and floss after every meal, there can be a bit of a learning curve. Some patients also find it difficult to remove their trays. People who have Invisalign attachments may also find it harder to take their trays off. Rather than tugging on your aligners and risking breaking them, read on to learn about five methods that will make removing clear aligners easier.
Method #1: Use Your Fingers
The easiest method of removing clear aligners is to use your fingers. In general, you should just be able to pop your trays off. This option is the most practical since you don't need to have specific tools on hand to do it. First, hook your fingernails under the edges of your aligners. Gently pull them down to release your aligners from your back molars. Release the trays once you reach the front of your mouth. You should be able to easily lift them off your teeth.
Method #2: Using Paper Towels
If you have trouble getting a good grip on your aligners, try using aper towels. This may make them easier to remove. Hold a paper towel in each hand and place them over your back molars. Grasp on to one of your aligners firmly and pull down until it releases from your molars. Slowly make your way to the front of your mouth until you can pop your trays right off.
Method #3: Use Surgical Gloves
Surgical gloves can give you an even better grip than paper towels since they're much easier to maneuver. Double check that you have the right type since thicker gloves will be more difficult to maneuver. Additionally, make sure that the gloves are clean before you put them in your mouth. You will use them the same way that you use paper towels, by starting at the back and working your way forward until the aligners can easily be taken off.
Method #4: Use an Aligner Removal Tool
Aligner removal tools are another option if you're having issues with removing clear aligners. They are specially designed for this task and are also helpful when you can't clean your hands before taking out your trays. They are double-sided with a hook on one end that latches onto your aligner. The opposite end of the tool has a flat surface that rests against the edge of the aligner tray and dislodges it with a pushing motion.
If you are having trouble removing clear aligners, there are several options that will make it easier to do so. Don't be scared to experiment until you find out which one works best for you. The easier your orthodontic treatment is, the better!
About the Practice
Dr. Leslie Metzger and her team at Monet Aesthetic Dentistry are here to help you and the other residents of Farmington and the surrounding communities take excellent care of their smiles. They administer only the best oral health services available so you can keep your beam in great shape. They also offer Invisalign for those looking to fix a crooked smile or bite issues. To set up an appointment with Dr. Metzger and the Monet Aesthetic Dentistry team or for more information on Invisalign, call (248) 476-3410 or visit their website.