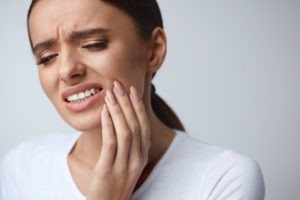 If you struggle from TMJ disorder, you know how painful the condition can be. TMD (temporomandibular disorder) impacts your daily life, making chewing and talking more difficult. That's because it affects the temporomandibular joint, which connects the jaw to your skull. When the joint is displaced, slipping and sliding causes pain in the muscles and joints around your face. If you want to help alleviate pain caused by TMJ disorder, here are things you shouldn't do.
Don't Clench Your Teeth
Teeth clenching (also known as bruxism) is a common dental concern that's also attributed to stress. You may find that you clench your teeth throughout the day, or perhaps you do it unknowingly while you sleep.
If you have TMJ disorder, teeth clenching can make your symptoms worse because it causes extra tension in your jaw's muscles. Managing stress sometimes helps stop the grinding, but you may need to talk to your dentist about a mouth guard to wear while you sleep.
Limit Hard Foods
It's not very fun when you have to watch what you eat, but hard foods put extra strain on the joints in your jaw. Foods like bagels, apples, and tough meats should be limited, or even avoided, to cut down on pain experienced from TMJ disorder.
Don't Chew Gum
If you chew gum regularly, it may be time to break that habit. Much like eating hard foods, it requires additional usage of the muscles in your jaw. Over time, this adds extra pressure and creates more tension in the joints around your mouth. TMJ disorder sufferers should avoid chewing gum if they want to decrease the occurrence of their symptoms.
Stop Slouching
You probably haven't put much thought into how your posture could affect TMJ disorder. However, there is a direct link between how your jaw operates and the position of your head above the cervical spine. When you stand upright, the proper alignment makes the jaw muscles work better.
On the other hand, slouching can affect how your jaw opens and closes. A physical therapist may be able to work with you to improve poor posture.
Don't Put Off Treatment
The longer you wait to seek treatment for TMJ disorder, the more pain and discomfort you'll likely experience. Your dentist or healthcare provider can help you diagnose TMD and find strategies and treatments to help your symptoms.
Many cases can be treated by using exercises, joint mobilizations, and anti-inflammatory treatments. Oral appliances and mouth guards are also usually pretty effective. For more severe cases, surgery may be necessary to correct the issue. Note that this is typically a last resort and not usually required.
You don't have to keep suffering from pain associated with TMJ disorder. Pay attention to your daily habits that could be exacerbating the issue and make sure you reach out to your dentist to learn more about TMJ therapy options.
About the Author
Dr. Metzger is fulfilled by improving her patients' quality of life. She graduated from the Ohio State University College of Dentistry and went on to attend additional training programs at the Las Vegas Institute for Advanced Dental Studies. She is a member of the American Dental Society and the Michigan Dental Society. If you have questions or concerns about symptoms related to TMJ disorder, visit her website or give her a call at (248) 476-3410.