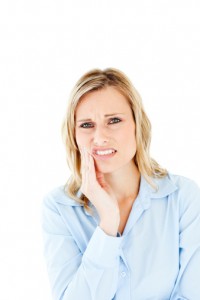 Temporomandibular Joint Dysfunction also known as TMD occurs when the joint connecting your jaw (mandible) to the rest of your skull (temporal region) is strained or otherwise does not function correctly. TMJ disorder can be extremely painful, cause chronic headaches, earaches, hearing loss, inhibits speech and chewing, and can lead to numerous other medical concerns. Still, if you mention TMJ dysfunction or TMD, many people aren't quite sure what it is. Common misconceptions are that this joint discomfort is untreatable, and that it is the same thing as lock jaw (an infection from the tetanus bacteria). If you've experienced jaw pain, swelling or difficulty opening and closing your mouth, you may wish to visit Dr. Leslie M. Metzger of Monet Aesthetic Dentistry to find out more about TMD and possible treatments. Our practice is dedicated to providing patients with outstanding preventive dental care, and that includes screenings for TMD at every six month checkup. Call to schedule your appointment with our caring Farmington, MI team today.

What Causes TMJ Dysfunction?
There are many causes to TMJ dysfunction, but they can be classified as one or three types of pain:
Muscle or joint pain due to strain or injury – Typically caused by repeated irregular jaw motion caused by misaligned bite, bruxism (teeth grinding or clenching), stress tension, over extension.
Displaced disc or dislocated jaw interfering with joint function – Typically the result of an injury, but displaced discs or dislocated bones can occur when irregular motion continues over a period of time such as for patients with severe over or underbite.
Arthritis related joint inflammation – Arthritis is generally believed to be caused by the natural wearing down of bodily tissues over time.
Symptoms of TMD
Many patients with TMD are not systematic until their disorder is at an advanced stage which is why we highly recommend regular TMD screenings during six month checkups. However, many patients who suffer from TMD experience the following symptoms:
Sore or painful jaw
Difficulty opening and closing mouth
Clicking or grinding sound when opening and closing mouth
Frequent headache, earache, or neck pain
Change in the way your teeth fit together
What Can I do About TMJ Dysfunction?
Different types of TMD require unique treatment, but almost all cases of TMD benefit from the use of a dental appliance to comfortably correct the alignment of the jaw. At Monet Aesthetic Dentistry we can fit a custom dental appliance to properly set your jaw and relieve your TMD related pain. We can also help you by recommending additional treatments for more advanced TMD cases including:
Joint replacement
Botox
Surgical joint adjustments
Laser pain relieving treatments
Call the Dentist Farmington Turns To
If you think you may be suffering from TMD, don't put off treatment for one more day. At Monet Aesthetic Dentistry, Dr. Metzger and her outstanding dental care team, are always here to help you look and feel your absolute best. Call to schedule an appointment today. Our Farmington, MI practice is conveniently located for patients in surrounding areas including Northville, Southfield, Novi, and Oak Park.