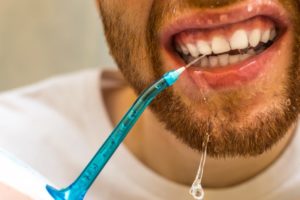 When it comes to keeping your oral health in top condition, there are a few habits that are essential. In addition to visiting your dentist every six months for a checkup and cleaning, your dental hygiene routine is the key to keeping your teeth and gums clean and healthy. While brushing often gets the most attention, flossing is just as important! However, now there are other options than just dental floss, like the Waterpik. But is one better than the other? Here's what to know about these flossing tools.
First Things First: What Is a Waterpik?
Waterpik flossers, also known as dental water jets, use pressurized streams of water to flush away food debris, plaque, bacteria, and other unwanted particles from between the teeth and underneath the gumline. It can reach the small and hard-to-reach areas of your mouth. Additionally, it can keep your breath fresh for longer. While some people prefer the ease of using strong forces of water over having to deal with dental floss, others feel it doesn't adequately scrape out the plaque that can build up on the teeth.
Is a Waterpik or Dental Floss Better for Your Oral Health?
Despite what people feel, research has shown that there's minimal difference in plaque removal between a Waterpik and dental floss. They both adequately clean between the teeth to remove any harmful things that can keep your oral health from being in top condition.
A Waterpik can be a helpful tool for those who wear braces or have dental work such as bridges, crowns, or dental implants. Also, as stated above, for people who find it difficult, uncomfortable, or time-consuming to work with dental floss, a dental water jet can be a wonderful option. However, most dentists generally recommend the tried-and-true method of using regular dental floss. Of course, you should be sure to follow proper techniques to keep from damaging your gums or the soft tissues of your mouth.
When Should You Clean Between Your Teeth?
There is actually no best time to floss your teeth, as long as you do it daily. Whether it's before you brush your pearly whites or after, cleaning between your teeth will loosen harmful substances that could cause harm to your smile in the future. Many people prefer to brush first to remove most of the plaque and bacteria before flossing, allowing the fluoride from toothpaste to do its magic. However, according to the American Dental Association and the Academy of Periodontology, either routine is effective!
No matter what flossing tool you choose to use, the key is to do it consistently. Whether it's a Waterpik or dental floss, your smile will remain healthy and happy for many years to come!
About the Author
Dr. Leslie Metzger and her team at Monet Aesthetic Dentistry keep the smiles of Farmington healthy and beautiful! She earned her dental degree from The Ohio State University College of Dentistry, completed post-graduate work and trainings, and is an active member of the American Dental Association. With a focus on providing high-quality dentistry that improves your overall life, she offers a full range of services, including preventive care. To schedule an appointment, contact her through her website or call (248) 476-3410.