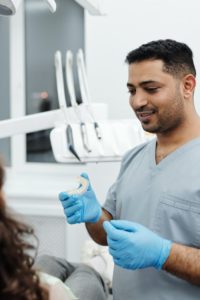 If you're ready to invest in a straight smile using the clear choice in orthodontics, you probably didn't expect your dentist to recommend interproximal reduction (IPR) before getting Invisalign. Although its name may sound a little scary, it's a common procedure needed before wearing clear aligners. The goal is to create more space to align crowded teeth by removing a small amount of enamel. Since your enamel won't grow back, it's normal to be concerned about the procedure, but there's no reason to worry. Here's what you can expect with IPR and why it's necessary to achieve your best smile.
What is Interproximal Reduction?
IPR is a quick procedure that polishes the edges of teeth to create more space between them. The painless process files down the side layer of enamel to make treating overcrowding and tooth size discrepancies easier to resolve. Ideally, the space created ranges from 0.15mm to 0.4mm. This allows your teeth to move into position more easily to shorten your treatment time.
In cases of severe overcrowding, spacers may need to be placed between teeth before interproximal reduction, but it isn't always necessary. A thin, flexible dental file or special handpiece is inserted between two teeth to remove enamel to reshape them. No numbing agent is needed, and the procedure is complete within a few minutes.
Invisalign After Interproximal Reduction
Without IPR, many patients with crowded teeth wouldn't be candidates for Invisalign. Overall, IPR provides a quick and easy remedy to avoid needing brackets and wires or a tooth extraction. After reshaping your teeth, you'll be ready to start wearing your aligners. Advanced technology ensures each one fits over your teeth like a glove. You'll wear them for at least 22 hours per day and switch to the next one in the series every 1-2 weeks. On average, it takes 12 to 18 months to complete the series.
You can avoid delays in your treatment by following your dentist's instructions, like wearing your aligners long enough and switching to the next on time. Although you won't need appointments for adjustments, you'll need to see your dentist every few weeks, so they can monitor your treatment's progression.
Don't forget to follow a good oral hygiene routine and clean your aligners well using a soft-bristled toothbrush and clear hand soap or dishwashing liquid. Remove your aligners when eating or drinking anything except water to prevent unnecessary complications with your treatment plan.
Invest in a Straight Smile
While you may not have anticipated needing IPR, it can put you on the fast track to a straight smile. It won't harm your teeth while creating the healthy, attractive smile you desire.
About Dr. Leslie Metzger
Dr. Metzger earned her dental degree from The Ohio State University College of Dentistry and has completed advanced education in many specialties, including cosmetic dentistry. She is a proud member of various professional organizations, including the American Dental Association. If you're ready to improve your smile, contact our office today to request an appointment.